Stop any Migraine attack within minutes & prevent it from recurring
With the MHRMprotocolTM you will be able to terminate a headache within 5-15 minutes, and a Migraine within 10-30. We know it sounds impossible, that's why we want you to try it out for FREE.
Stop any Migraine attack in minutes & prevent it from recurring
With The MHRMprotocolTM
you will be able to terminate a headache within 5-15 minutes, and a Migraine within 10-30.
Heal yourself. Stop the pain in minutes.
The MHRMprotocolTM aka The Migraine & Headache Relief Method, is a method you can apply yourself anywhere & at any time. Going beyond mere prevention, it is the only method available that can stop an active migraine or headache, even when you are in the middle of an attack. Without the use of medications, faster and without the side effects.
The Science isn't new, but the technology is.
The MHRMprotocolTM combines many known and proven practices: Bio-feedback, breath work, pressure points, mindfulness & more. Any of these elements alone is only somewhat effective. Our secret is in the unique way we combined them turning them into the most effective tool to combat Migraines and Headaches available today.
Are you having a Migraine or Headache Right now?
Take our word for it. Just try the first technique from the method and you will be bought.
This single technique can resolve 50% of headaches & 30% of Migraines. And in the course you will find 20+ more techniques to achieve complete relief.
The MHRM protocol has been tested by your peers and proven to bring relief in more than 90% of cases. The MHRM protocol is now under clinical testing.
"It works amazing! right after the treatment the migraine went away, I didn't need to rest in a dark room and the pain didn't come back for the next 40 days.
Natasha Dimitriou, Yoga Teacher and human being.
"The first time I experienced this treatment I was in shock at how quickly my headache disappeared and I was blown away by how effective this simple technique was
"I have never had anything work this fast for my headaches. I suffer from headaches arising from many reasons, and this technique always helps me.
"I've been suffering from Migraines for almost 20 years. I tried the headache relief method and after 15-20 minutes I felt so much better. I highly recommend it
Like having your own personal Headache Specialist
Know which techniques to use and how to apply them for your specific pains, we will guide you step by step from where you are now to being completely pain free.
20+ Intervention Techniques
Each migraine is different: different types of pain, intensity or location. Each one of our Intervention techniques is designed to alleviate a different  type of migraine or headache. With more than 20+ techniques at your fingertips you will be guided to find the technique or sequence that will work for you.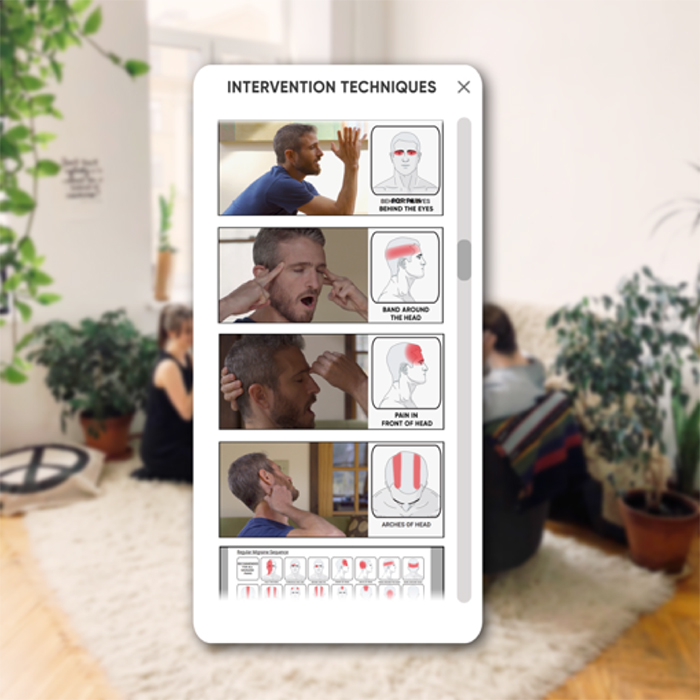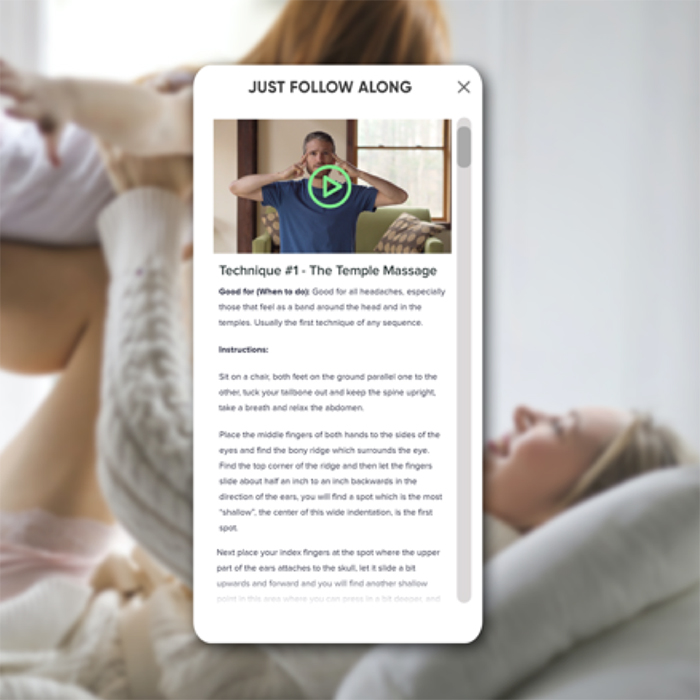 Fully guided in real time
The simple to follow videos & Instructions allow you to start resolving your Migraines & Headaches  immediately. No need to study lengthy texts  and formulas, just press play and follow with the demonstration on the screen.
15+ prevention techniques
Our unique and effective prevention techniques will help you avoid having migraines or headaches at all.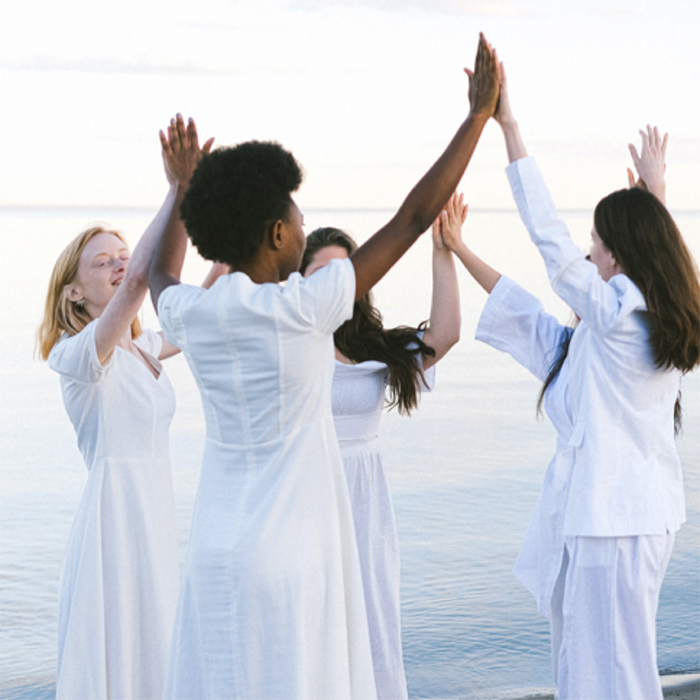 Surround yourself with other people overcoming  their Migraines & Headaches naturally with the power in their own hands!
If at anytime you don't like the techniques, the advice, the program, or you feel you want something else, we'll give your money back. Put the method to the test. Follow the videos and apply the method. And if it doesn't work for you – no problem, we'll refund your money.
Migraine has been a part of my life for 15 years now. Throughout these years the type of migraine changed as well as the triggers for causing it. But what stayed the same is how I can get rid of it: pills of course. I am forever grateful meeting Tomer who gave me the headache relief treatments. It was crazy noticing the pain wandering in my body until it lost it´s power. Such an intense experience. I highly recommend this method to everyone who is ready for a new way of healing.
I have personally struggled with headaches/migraines for most of my life and Tomer's technique is the only thing I have found to provide instant relief. The first time I experienced this treatment I was in shock at how quickly my headache disappeared. I was accustomed to trying an endless list of remedies to try to ease the pain and I was blown away by how effective this simple technique was. I'm so grateful to have access to the knowledge that Tomer shares; It is so empowering to have the tools needed to live this life more comfortably. If you struggle with headaches of any kind, I highly recommend learning about this technique!
I have personally suffered from migraines the last 4 years; each month for 2 days I experience a strong pain in the right area of my head, behind my right eye, connecting to my right ear; no need to mention that during my migraine I need to lay down in a dark room. In order to relieve myself I have to take strong pills and still sometimes the pain doesn't disappear. Tomer gave me his Headache Relief treatment and the migraines disappeared all at once. With no pills at all! I was surprised as relieving my migraine was always impossible for me. The technique is simple and yet so efficient. Highly recommended and if you struggle with migraines. You will be surprised! So happy that Tomer decided to share this valuable technique with all of us!
Once you have experienced this unique method, you will feel the immediate relief of your pain, accompanied by more emotional, physical and psychological benefits.
The Migraine & Headache Relief Newsletter
Sign up to receive special offers and the latest news about the MHRMprotocolTM.